The blanket term Broadway refers to the Broadway shows seen in almost 50 theatres in Manhattan. Still, it's also the name for the bright lights of 42nd Street with a history ranging from the speakeasy to the burlesque.
Wander along the street and soak up the magical vibes, but don't miss seeing one of the professional shows on offer. Musicals with huge casts, contemporary plays with often famous stars, Disney inspired spectacles, and more are all on this theater district.
A night out doesn't need to be expensive either if you want to have a great time in NYC. Visit the area early enough, and you can join the queue of people waiting for cut-price tickets. Although economical, these box offices can't guarantee which seats will be available until you get to the front.
If you want to see a specific show, there are some excellent online resources offering deals, such as showtickets.com. The company's promise is "Cheapest price, Easy & Secured Booking, Quality for Customers." That's obvious by the plethora of their 4.9-star reviews that they keep their promise.
From food markets to sing-a-longs, art exhibits to a museum of perpetual motion Rockefeller Centre has a lot to draw tourists to New York City. The schedule of events changes regularly, but chances are you will find something of interest to you.
Perhaps the most interesting is the famous Top of the Rock Observation Deck, which treats visitors to a view of NYC from 850 feet above street level. A 3-tiered observation deck gives visitors extraordinary views of the city. With the 70th-floor observatory offering a panoramic 360-degree, open view best seen at night. Here are a few need-to-knows for your visit to this fantastic attraction:
Almost 4 million tourists a year visit the Empire State Building in NYC. Back in its day, it was a symbol of American grandiosity and innovative engineering. Still, more recently, our conception of it has been molded by countless movies and TV shows. An Affair to Remember, Sleepless in Seattle, King Kong, and others, all cast the Empire State Building as a singular character.
To say the build has a character as much as it is a character would undoubtedly be true, and perhaps that's down to the history behind it. You can read about in our blog post, A Building of Dreams.
Now that you know all about how the building came into being, you can plan your visit to experience it firsthand.
To make sense of them and perhaps find events for more extended tours that include other NYC landmarks, check out Isango. It presents different options in one place as well as providing deals for travelers.
The 9/11 Memorial is located on the site of the former Twin Towers that saw one the most horrific act of terrorism ever. Two man-made waterfalls, the largest in North America, and their reflecting pools now take the place of the Twin Towers. They are surrounded by a grove of trees, including the "Survivor Tree found in the rubble of the fallen buildings and restored back to health.
Also on the site is the 9/11 Museum telling the moving, real-life stories of each person affected by the terrorists' actions on 9/11 in New York, near Shanksville, Pennsylvania, at the Pentagon, and in the World Trade Center bombing in February 1993. The exhibition space is a combination of multimedia displays, archives, narratives, as well as monumental and authentic artifacts.
In the north-west corner of the site is the One World Trade Center. The most giant skyscraper in the USA and seventh-largest in the world was rebuilt after the tragedy. Visitors can travel the 1,250 feet upwards in "Skypod" elevators to the observation deck to take in the panoramic views of NYC and a far off Philadelphia.
While you are visiting the site and for a better view of the One World Trade Centre and this resilient city consider a helicopter ride with Adrenaline. Their 15 minutes New York City Helicopter ride departs Manhattan Heliport, located between Ground Zero and the Brooklyn Bridge. It takes in all of the iconic NYC landmarks via a bird's eye view that you can't get anyway else.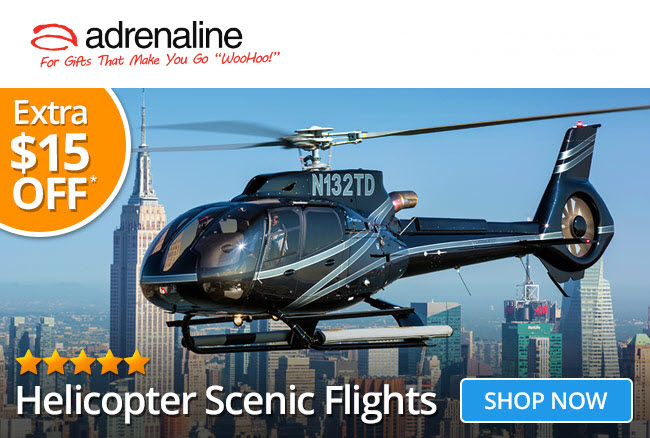 Perhaps the attraction most associated with New York is the famed Statue of Liberty, which rests on Liberty Island. It was one of the first things new Americans arriving at Ellis Island would have seen. Due to this and its origin as a gift of friendship from France to the United States, it became a symbol of hope, democracy, and freedom.
Since 1933 the National Park Service has been tasked with maintaining the statue and facilitating visits from millions of tourists all year round. Tickets are purchased from the Service website and are specific to the access you desire.
The Statue of Liberty is open every day except on Thanksgiving and Christmas Days, although bad weather can affect the ferry timetable. The only way to get to Liberty Island is on a Statue Cruises Ferry that departs from Battery Park or Liberty State Park.
Plan to visit there early so that you have enough time to explore both sites and their museums. The Park Service recommends setting off no later than 1:00 pm.With a main "Grounds Only" ticket, you receive full ferry service, access to both islands, and entry to the Statue of Liberty Museum and Ellis Island National Museum of Immigration. For the pedestal or crown of the Statue of Liberty, further reservations must be made to access. Due to demand in popular months, you have to book well in advance, often up to 6 months.
If you plan to be in New York sooner rather than later, then consider visiting the venue with a tour company such as New York Tour 1. Their Statue of Liberty and Ellis Island Tour Includes everything:
All you get with the "Grounds Only" ticket.
Access to the Pedestal at Liberty Island.
And an expert Tour Guide!
Important Note:
The Staten Island Ferry is a free service provided by the City of New York. Don't confuse it with the Ellis or Liberty island where the statue rests.