Tourism is a huge economic sector for many countries but as travel has become more accessible, popular destinations have seen its downside. Places such as Venice, Italy, Kyoto, Japan and Barcelona, Spain have all been victims of their own popularity. Some of the difficulty is due to cultural differences, some due to raising prices of accommodation and services, and some simply due to a huge influx of visitors at loggerheads with local infrastructure and locals themselves.
Many cities are now working to better control tourism and its negative effects. One such city is Barcelona whose council has come out against AirBnB and Uber, citing their role in lack of inner-city housing and market share for registered taxi drivers. Still these measures are unlikely to solve the onslaught of tourists that flock to the city every year.
The food, weather, culture, and atmosphere in Barcelona are all big draws for tourists, but the biggest one is probably the fascinating, unique architecture of Antoni Gaudí.
Gaudí was born on 25 June, 1852 in Reus, Catalonia, Northern Spain. He was the son and grandson of coppersmiths; boilermakers who showed him how to work with his hands and see the world structurally. This background along with his drawing talent and delicate health, which exempted him from military duty, saw Gaudí study architecture in Barcelona when he was 18.
He paid for his studies through drawing for various architects who would become his benefactors and help him graduate from his studies 8 years later. It is reported that at his graduation ceremony the school's director stated: "We awarded the diploma to a madman or a genius. Time will tell".
Time and the many people who come to Barcelona to see his creations have settled on genius and if you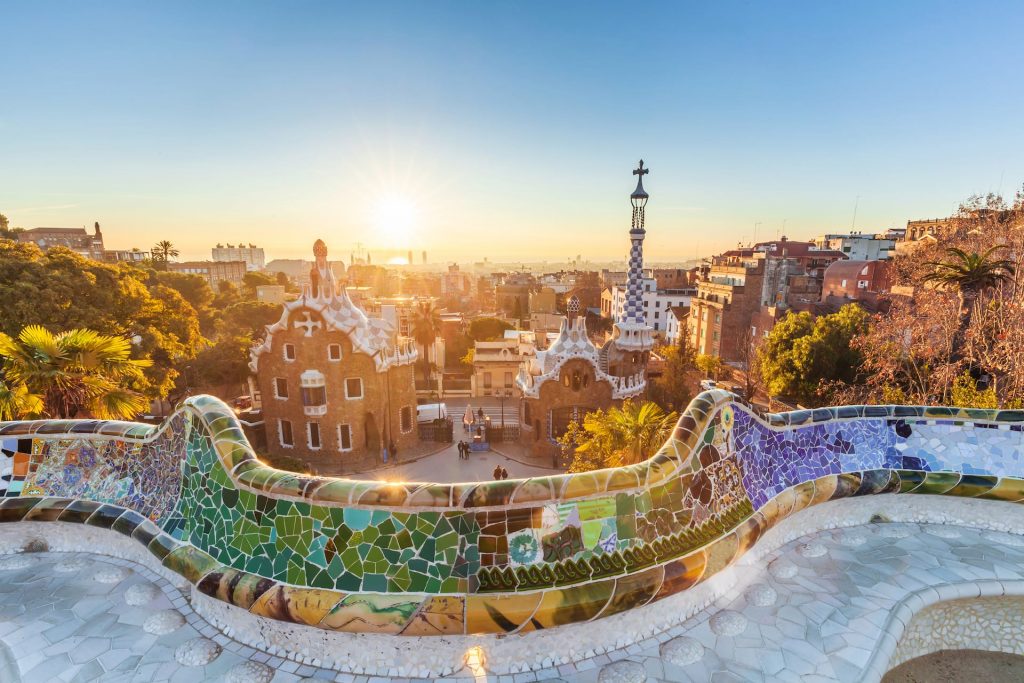 Although Gaudí started working as an architect after graduation it was his introduction in 1884 and subsequent friendship with wealthy industrialist Eusebi Güell that changed his life. Güell commissioned some of Gaudí's most famous works including his family home the Palau Güell, the unfinished Crypt of the Colonia Güell and the Park Güell which was originally supposed to be a housing site but due to its unpopular location on the outskirts of Barcelona ended up being a park and green space.
Because it was a commercial flop, Güell eventually pulled the financial plug but not before Gaudí had, between the years of 1900 and 1914, created gardens, sculptures and mosaics said to be inspired by the macabre fairy tale Hansel and Gretel especially evident in the two gatehouses he designed.
Two houses were built on the site, neither designed by Gaudí, but he did live in one of them from 1906 to 1925 and visitors to the park can go inside for a peek at the domestic life of a genius.
Besides his former house there is much to see at the park, including the trencadís mosaic lizard, the Sala Hipóstila, a forest of 86 stone columns, the Banc de Trencadís, a mosaic curving bench and lots more eye-candy.
In 1903, Josep Batlló y Casanovas, a rich textile magnate bought a building designed 25 years earlier by one of Gaudí's architecture professors, Emilio Sala Cortés. He wanted the building demolished and a new one built but Gaudí resisted, cleverly renovating Casa Batlló in his own style.
For many tourists this UNESCO World Heritage site is their favorite Gaudí building perhaps down to the ghoulish fashioning of bone-like columns surrounding the lower windows and balconies that resemble skulls. Some say the Catalan legend of Sant Jordi slaying his dragon is represented in the roof, with the scaled tiles made to look like a dragon's back and the tower the knight's lance piercing it.
Inside the spectacle doesn't end with stained glass windows, stylistic arches and swirling ceilings all creating a movement that makes you believe you are really in the heart of the beast.
Gaudí had just finished Casa Batlló when in 1906, Pere Milà and his wife, Roser Segimon, commissioned him to build Casa Milà.
Apart from each unique hand-hammered metal balcony and trencadís tiled mosaic roof, the building is awe inspiring because it was the first building in the world without load bearing walls. Instead, Gaudí designed a central frame that supported the building as it cascaded outwards.
Unfortunately, many of the locales did not understand the implications of this innovation and disliked the building nicknaming it La Pedrera, "The Quarry" as an insult.
By 1912, Gaudí had left the project unfinished after arguments with the Milà family over money and aesthetics. He had always been religious but his disgust with what he believed to be a corrupt world pushed him to concentrate on the religious project he had been heading up since 1883.
Gaudí devoted himself to the Sagrada Familia cathedral in earnest and the project took up the remainder of his life, eventually costing his life. Ironically, the church of the Sagrada Familia or the "Cathedral of the Poor" as Gaudí considered it, is his most famous work and he didn't even finish it. In fact, work on the structure is ongoing, paid for by visitor donations and planned for completion in 2026.
Gaudí finished detailed plans for only three of the most important parts of the exterior with the Nativity façade built between 1894 and 1930, the only one almost completed during his life. The Passion façade and the façade of Glory were both undertaken with Gaudí's drawings as a guide with the former one completed and the later only started in 2002. The façades represent the three stages of Christ's life and Gaudí took great pains to include the religious symbolism required to denote these stages.
The interior of the church is unlike any other church in the world, not surprising given that it was designed and inspired by Gaudí. For instance, instead of using Gothic buttresses, he relied on columns shaped like tree trunks, nature being a constant theme in all his works and continued in his greatest.
In 1926, Gaudí moved into the construction site at Sagrada Família. That same year on 7 June he was on his way to pray at the church of Saint-Philippe Néri when he was hit by a tram. Unconscious, without papers and with a disheveled appearance, he was initially mistaken for a beggar and left for dead. When he was recognized and taken to hospital, it was too late and he died three days later at the age of seventy-three.
Gaudí was buried on 12 June, in the crypt of the Sagrada Família. Little did he know how celebrated and visited his creations would become. For Gaudí who revered God's natural world more than man's perhaps he would be dismayed at the detrimental effects his popularity has on his city. We can only hope that the messages found in his work of mysticism, light, creativity and harmony with nature, inspire visitors to live as the genius himself did.