You might think Christmas would be one of the busiest times of the year for travel, but that's not the case. Destination travel only increases by 23 percent at Christmas time, well behind Thanksgiving, and even some weeks in the summer.
That's good news if you're thinking of traveling over Christmas. Let's look at 6 of the best Christmas destinations for families and couples who want to get away over the holidays.
(And if you have a few days to spare you can turn it into a full week Eurotrip exploiting the order of the cities in this article)
Budapest, known as the "Pearl of the Danube", is the capital of Hungary, but it's much more than just the political center of the country. It's also the cultural hub.
Budapest offers a wide range of restaurants for foodies to enjoy as well as historic architecture, beautiful parks, and of course the Danube River. The area was first settled over 2000 years ago, but the city itself traces its roots to the end of the 9th century.
The city's long history means it's home to a variety of architectural styles, including Roman, neo-Gothic, Renaissance, and Ottoman.
Fisherman's Bastion is a neo-Gothic terrace that could be plucked straight out of a fairy tale. It's named for the guild of fishermen that protected Budapest against invasion in medieval times.
The Bastion offers amazing views of the entire city. It's a perfect spot for Instagramming the Danube River, Margaret Island, and many other sights.
Castle Hill is another spot everybody who visits Budapest should see. It's recognized as a UNESCO World Heritage site. The Buda Castle was built in the 13th century, and the lack of traffic lets you explore without interference from the modern world.
Budapest is famous for its thermal baths, so much so that it's been called the "City of Spas". The baths get heated by more than 100 natural thermal springs located throughout the city. Some of the baths turn into dance clubs at night. So you can go from a relaxing bath to the dance floor with just a few steps.
Many famous people called Vienna home, including Wolfgang Amadeus Mozart and Sigmund Freud. The city's history goes beyond its residents, though. The city's culture drips from every building, whether it's the baroque palaces of the Habsburg Monarchy or one of Vienna's many modern cafes.
The city houses an amusement park and one of Europe's top-rated zoos, so it's an excellent destination for the whole family. That doesn't mean it hasn't got plenty to keep adults entertained, mind you. The many bars along the city's Bermuda Triangle and the wine taverns near the Vienna Woods provide a great nightlife.
Like most historical European cities, Vienna is home to a wide range of architectural styles and fascinating buildings.
This huge cathedral is considered the center of Vienna. It has been in the same spot since the 12th century, but there's very little of the original structure left standing.
The Gothic structure you'll find today was built in the early 1300s. Mozart's memorial was held here, and Napoleon posted his farewell edict on the doors of St. Stephen's.
The Vienna State Opera has been a significant part of life in Vienna since 1869. The director of the State Opera holds one of the most prestigious positions in the entire country. The building is still used for performances, but you can also take a guided tour to see it from behind-the-scenes.
Many of Vienna's attractions are located in the Innere Stadt, making it easy to travel between them. But even sites that are a bit further away are easy to reach and worth the trip.
Prague has a long history, dating back more than 1100 years to 870 A.D. Over those many centuries, the city has survived fires, floods, and invasions to earn its reputation for perseverance.
Its historic churches, hilltop castle, bridges lined with statues, and many other storied landmarks make it one of the best places to go for Christmas. Prague used to be a bit of a hidden gem, but travelers have become more aware of all the wonderful sights and activities you can find there.
Even with its growing popularity, the cost of a trip to Prague is relatively inexpensive. Many of the city's attractions offer free admission, and hotels often cost a fraction of what they would in other European cities.
A trip to Prague won't be complete without a visit to Prague Castle. It's the world's biggest coherent castle complex and houses the office of the Czech president.
The castle has stood for over 1,000 years, and its architecture spans many centuries. You'll find Romanesque buildings dating back to the 10th century as well as Gothic buildings from the 14th century.
Prague's Old Town Square was first built in the 12th century when it was the town's first marketplace. It hasn't changed a lot since then and is home to amazing architecture and a vibrant atmosphere.
The Old Town Hall is in the Square and is one of the best ways to get a view of the city. You'll also find the Prague Astronomical Clock, a timepiece created in the 1400s.
Beyond these must-see spots, you'll have plenty of other options, including the Prague Zoo, the National Museum, John Lennon Wall, and dozens of churches and other historic buildings.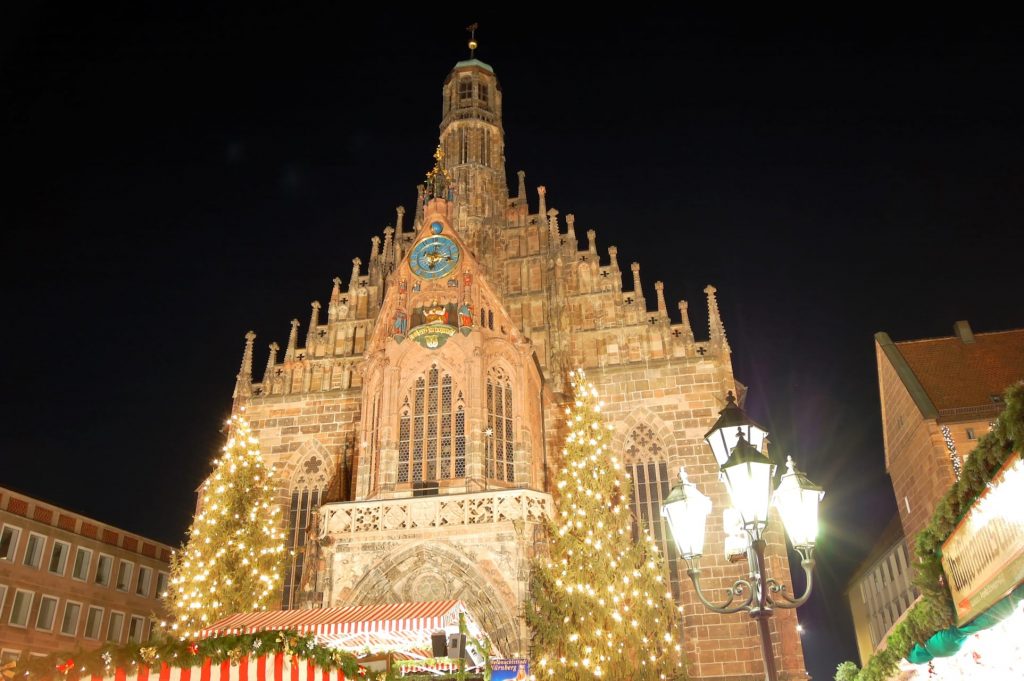 Nuremberg is home to the famous Nuremberg Christmas Market, an institution for the holidays in Germany. The market gets over 2 million visitors every year who are there to ride the giant carved wood Ferris wheel, the steam train, and the old-fashioned carousel.
Nuremberg even has a Christmas Market Council that oversees the market and only allows traditional handmade items to be sold. The market houses 200 vendors who are all trying to out-do one another to win the "Most Beautiful Stall" award.
The Christmas Market makes Nuremberg the perfect destination at this time of year, but it's hardly the only reason to visit. There are plenty of other sights and attractions to take in.
If you're traveling with kids (or someone who's a kid at heart), the Toy Museum is a must-see. Nuremberg has been well-known for its toys for over 600 years. The museum is home to toys ranging from medieval dolls through modern toys you would find at today's International Toy Fair.
The museum covers 2200 square meters and holds over 80,000 items in its collection, so plan to spend some time exploring.
Paris is known as the "City of Lights," and this is even more apparent at Christmas time. The Arrondissements of Paris always has something festive happening. You'll find glittering displays of lights, Christmas markets, and special Christmas shows throughout the city.
Some of the most popular Christmas markets include the Eiffel Tower, Trocadero, and Tuileries markets. You'll find amazing Christmas trees and other displays as well as the cuisine that Paris is famous for.
The Paris Festival of Lights runs from mid-November to mid-January most years. It lights up the alleys and pitches of Ménagerie du Jardin des Plantes and Jardin des Plantes with lanterns intended to raise awareness of how important it is to protect endangered species.
Another unique Christmas time sight in Paris is the window display at many department stores. Expert decorators build these animated displays in the windows of many of Paris' most famous stores. You should spend some time "window shopping" on Grands Boulevards even if you don't plan to spend anything in the store.
Of course, there are some things you need to see in Paris, no matter what time of year you go. Sights like the Eiffel Tower, Champs-Élysées, and the Louvre shouldn't be missed, and they're even more impressive when they're decked out in Christmas decorations or under a blanket of snow.
London is another city that goes all-in on Christmas with special Christmas markets, magnificent light displays, and many other special winter activities. London's world-class shopping is also a perfect match for Christmas, giving you plenty of options for picking up gifts for your friends and family.
The Winter Wonderland market is the largest Christmas market in London. It's not exactly a traditional market, mind you. You'll find roller coasters and other rides, trampolines, haunted houses, and many other activities you would normally see at an amusement park.
There's also the IceBar for a more adult-oriented activity, where you can try all kinds of festive cocktails. Zippos Christmas Circus and Cirque Berserk put on some fantastic performances as well.
Most of London's main streets get decorated with Christmas lights at this time of the year. You can walk through the streets to check them out or climb aboard a double-decker bus and view them from the top level.
You'll still want to check out the usual sights in London as well, no doubt. Westminster Abbey, Buckingham Palace, and the London Eye are all must-see attractions when you're in town.
Booking Your Trip to These Christmas Destinations
Once you've made your choice from these Christmas destinations and it's time to book your trip, check out the People Traveling blog. We'll help you find the best deals for your Christmas getaway and help you decide on what activities and other events you want to check out.
Find out more about the People Traveling blog and check out all the helpful articles on our site.